Play dominoes
Dominoes rules
Dominoes modes
Dominoes has different game modes. Within the most popular ones there are the international, latin, Colombian, Venezuelan, ponce, Dominican and Cuban dominoes. The variant offered in Casual Arena is based on the international dominoes rules, with slight changes to make it more dynamic and allow to be played online fast and easy. It also allows having matches of 2, 3 or 4 players, and with couples.
Match start
Dominoes consists of 28 tiles or bones that represent 2 values between 0 and 6 each. The tiles which both sides are equal are called doubles.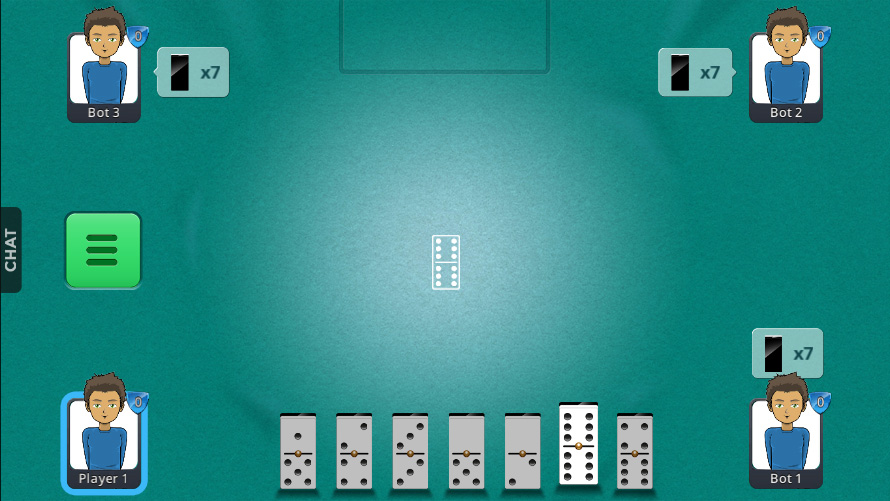 At the beginning each player gets 7 tiles from a total of 28 and the remaining tiles, if there are any, will be available to take.
The player with the highest double will be the one who starts playing and he's called the hand. After that, the turns will advance counterclockwise and each of the players will place a tile building a line of tiles with 2 endings.
Turns and way to play
Each turn the player must place a tile over the table connecting one of the 2 values of the tile with one of the endings of the line. When it's not possible, he has to take a tile until he can. If there aren't any tiles to take, the player must pass and the turn will change.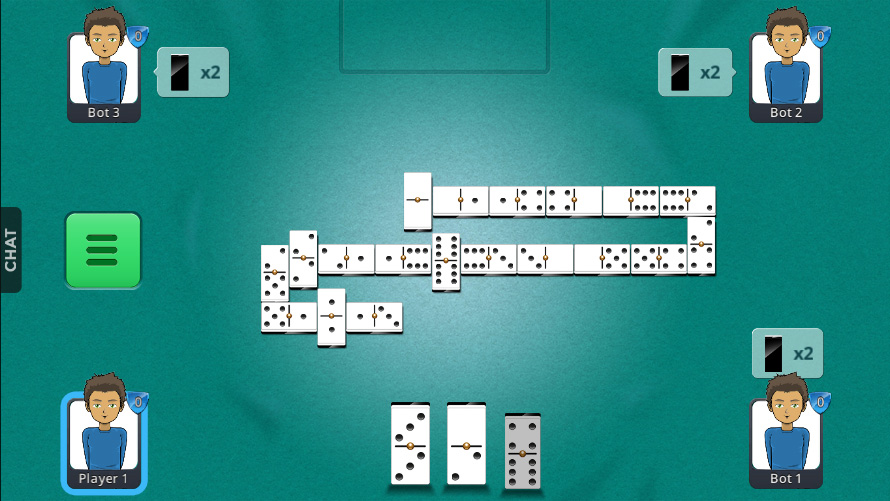 Round end
When a player puts his last tile, he wins that round.
The match may also end when no player can place or take. This situation is called block. In such case, the values of all the tiles are summed and the player with the less points value is who wins. In case of a draw, wins the hand or the one that is closer to the hand.
Match end
In the one round mode, the player who wins the round wins the game.
In the 50 or 100 points modes, the player who wins the round will sum as many points as all the values of the opponents' tiles, including his partner in couples matches, and excluding his own points. When after one or several rounds the player reaches 50 or 100 points, he wins the match.
Couples matches
These are played just like the 4 players matches with the only difference being that a couple wins when any of its members wins.
Draw
Only if all players agree a game can end in a draw.
Dominoes rooms
There are 5 dominoes rooms in Casual Arena: Passport, Tourist, Priority, Business and Luxury, each with different bet values and every room are accessible by all players after a certain level. Click on the following link to play dominoes online.
Prizes, chips and points
This is the points distribution according to each result and room, depending on the type of match:
2 players and couples matches:
Win

100

500

2.000

10.000

50.000

Draw

40

200

800

4.000

20.000

Lose

20

100

400

2.000

10.000

Quit

0

0

0

0

0
3 players matches:
Win

200

1.000

4.000

20.000

100.000

Draw

40

200

800

4.000

20.000

2nd

30

150

600

3.000

15.000

3rd

10

50

200

1.000

5.000

Quit

0

0

0

0

0
4 players matches:
Win

300

1.500

6.000

30.000

150.000

Draw

40

200

800

4.000

20.000

2nd

50

250

1.000

5.000

25.000

3rd

30

150

600

3.000

15.000

4th

10

50

200

1.000

5.000

Quit

0

0

0

0

0